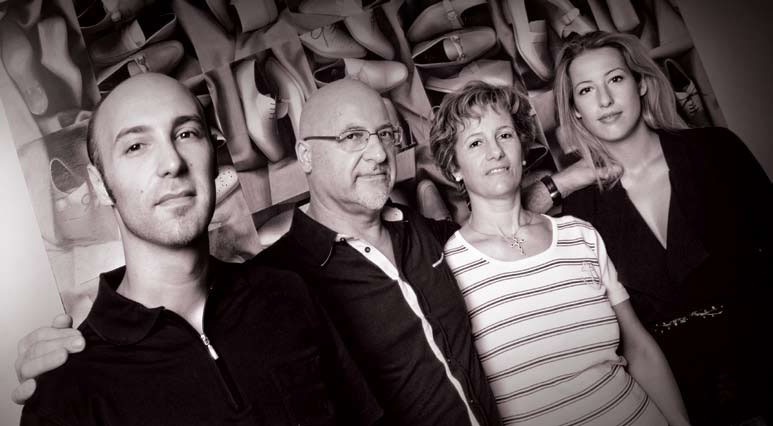 The Lancio shoe factory was founded in 1976 by Alberto Lanciotti who, from a young age, was attracted to the world of artisan footwear.
Through the knowledge of the art of master craftsmen and driven by a great passion, Alberto Lanciotti starts a small artisan workshop, assisted by his family and some close friends.
The Lancio shoe factory works closely with important luxury brands for sample development and production.
With strong commitment and thanks to his creativity, the company establish itself quickly on the Italian market and then gradually on European level and today to be recognised and appreciated among the best artisan producers of men's footwear, outstanding testimonial of 100% "Made in Italy".
70's.
Alberto Lanciotti , with some friends, starts his own artisan workshop in Montegranaro, the heart of the Marche footwear district and home of men's footwear. Here begins the story of the brand that takes up its name.
2000.
After almost 25 years, the company is well established in the men's footwear market in Italy and has a significant presence in the major European markets. The company has been awarded one of the best "Made in Italy" labels.
2005.
Alberto Lanciotti launches his own product line that bears his name. After almost 30 years the company has proven itself as serious and reliable manufacturer and that reflects on their stylish and quality products.
When Ivan Lanciotti joined the business, he laid the foundation for further development which took the form of new and ambitious growth plan. New product lines were quickly developed, showing refined taste by following the trends in international fashion. These includes the sports line and the "cult collection " designed for special occasions.
2012.
Elisa Lanciotti clearly represents the new generation of shoes manufacturing and with her entry into the company's management, new corporate image was born that enhances and makes the individual footwear more interesting and attractive. She immediately blended new technologies with a strong artisan approach. Quality materials, attention to detail and of course "MADE in ITALY" have always been the core principles for Alberto Lanciotti and his company.
Today.
40 years in footwear manufacturing is an important milestone for Lancio, for Alberto Lanciotti at the same time, it is a new beginning, a moment to reflect on past and future, tradition and new innovation and all come together in a single concept , excellence. Company's vision is to lead in the major world markets, while respecting and preserving the founding values, on which Alberto Lanciotti started his company in 1976, today managed together by his sons Ivan and daughter Elisa. Craftsmanship, superior quality, attention to detail: these are the secrets of success.